Streamline your fleet management. Optimize your asset performance.
With ongoing healthcare consolidations, such as the acquisition of institutions or hospitals, you as a provider face the challenge of managing a continuously growing fleet of medical devices. In order to be able to assess your equipment performance and make confident decisions holistically, you need to have access to real-time data in one place to decide on meaningful actions. However, in many cases the data you need for this is not easily or quickly available, with data being either scattered across different data sources, such as own or vendor-agnostic service management solutions, or simply outdated, which requires a lot of time and manual effort from you to get the transparency and data quality you need.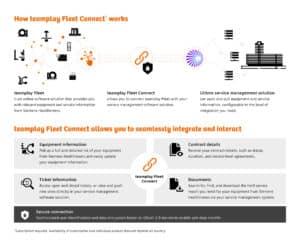 By connecting and sharing equipment and service data for equipment from Siemens Healthineers directly with your Ultimo software, you can benefit through:
increasing your data transparency and saving time by having up-to-date equipment and service-related information across your institutions available in your own service management system;
improving your data quality and reliability as the fundamental prerequisite for facilitating faster and more confident data-driven decision-making;
enhancing your operational efficiency by avoiding non-value-adding, manual data maintenance activities through automated data synchronization and integration with our service processes.
Disclaimer
*Subscription required. Availability of subscription and individual product features depend on country. 
The products/features and/or service offerings (here mentioned) are not commercially available in all countries and/or for all modalities. If the services are not marketed in countries due to regulatory or other reasons, the service offering cannot be guaranteed. Please contact your local Siemens Healthineers organization for further details.
About Siemens Healthineers
Siemens Healthineers AG (listed in Frankfurt, Germany: SHL) pioneers breakthroughs in healthcare. For everyone. Everywhere. As a leading medical technology company headquartered in Erlangen, Germany, Siemens Healthineers and its regional companies are continuously developing their product and service portfolio, with AI-supported applications and digital offerings that play an increasingly important role in the next generation of medical technology. These new applications will enhance the company's foundation in in-vitro diagnostics, image-guided therapy, in-vivo diagnostics, and innovative cancer care. Siemens Healthineers also provides a range of services and solutions to enhance healthcare providers' ability to provide high-quality, efficient care.
Contact us for more details