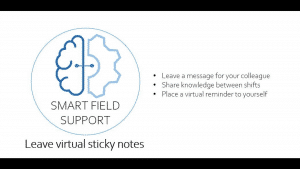 Smart Field Support has one goal: To improve the interaction between humans and machines and optimize efficiency and safety. Using advanced AR functionality based on Exostructure Augmented Operator Advisor of Schneider Electric. The tool provides information that is built around an "Area". This can be an object, a specific installation, or a machine. With this, Smart Field Support helps to increase employee productivity and enables knowledge to be secured and shared in a very visual way. This brings many benefits:
Smart Field Support speeds up training so your crew has more time available;
One expert can support multiple unskilled technical employees from a remote location. Very efficient in a time with great scarcity of highly educated technical personnel;
By using the step by step procedures in combination with Ultimo Go operators get direct access to the right information and instructions what to do. This increases first time right significantly and for that uptime and efficiency;
The tool is part of the EcoStruxure Family. That means it is part of the largest open IOT platform in the world and will run on any existing installed base;
Available within Ultimo
When a technician is working with Ultimo Go and needs help, he can start a remote support request and uses the available scenes within Smart Field Support. Realtime support is only one click away.
About TechBinder
TechBinder improves Human-Machine interaction by utilizing and combining new technologies. We drive efficiency, optimization, and sustainability by improving the way humans and machines work together. We focus on the maritime and production industry where we drive your business through digital technology.
Contact us for more details